What is a Low Poster bed?
A Low Poster bed is a type of bed frame that comprises four posters, often made of wood, that support the bed frame. The posts are typically short and the bed frame itself is usually low to the ground, making the bed look less imposing than other types of beds. Low Poster beds offer a unique style of elegance and sophistication to a bedroom, while still providing the same support and comfort as other bed frames. This type of bed is great for those who want to add a bit of character to their bedroom without sacrificing comfort.
Low Poster beds and your home decor
For furnishing a bedroom, one of the most popular and timeless choices is a low poster bed. This classic style of bed is perfect for creating an inviting and cozy atmosphere in any bedroom. With its low profile and four-poster design, it adds an elegant touch of sophistication to any room.
When decorating with a low poster bed, the key is to keep the design simple and uncluttered. To achieve this look, start by choosing a bed frame with clean lines and a neutral color palette. This will help the bed blend seamlessly into the overall design of the room and create a calming atmosphere.
Opt for a light-colored duvet and a few simple throw pillows. For a cozy touch, add a soft throw blanket at the foot of the bed. This will also help to create an inviting atmosphere in the room.
Choose wall decor pieces that are timeless and elegant. A few framed prints or an abstract painting will add visual interest and draw the eye up, creating the illusion of a larger space. For a touch of texture, hang a vintage-style rug on the wall above the bed.
To complete the look, add a few well-chosen accessories. A small side table with a decorative lamp, a cozy armchair, and a few throw pillows will add a touch of comfort and style.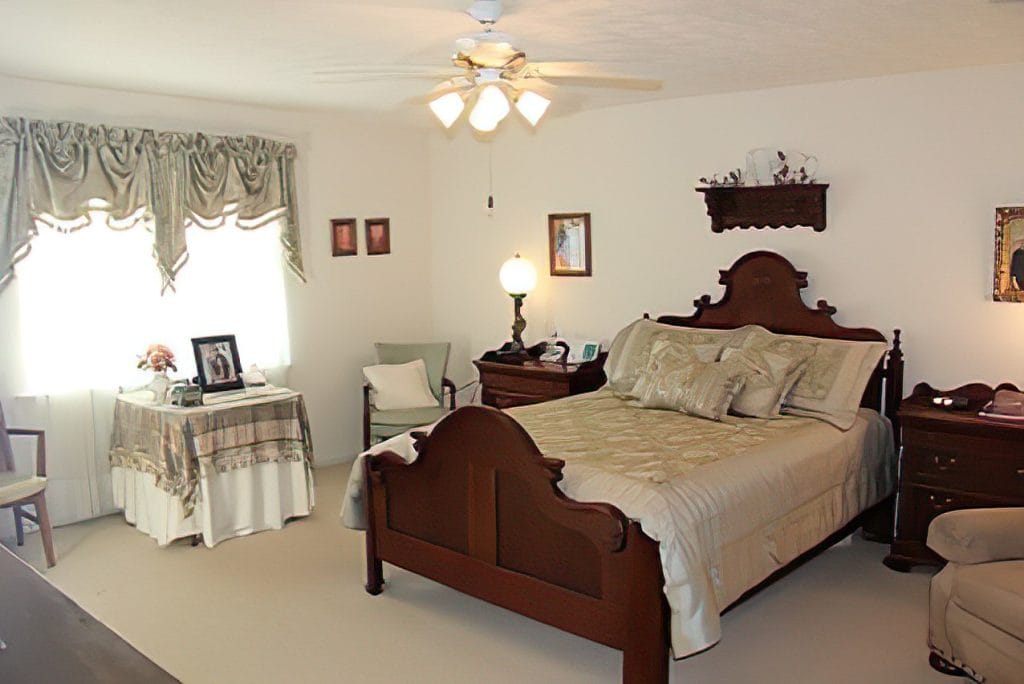 Growing in Popularity
Low poster beds evoke a sense of sophistication and luxury. Their unique and timeless design adds a touch of elegance to any bedroom. They are versatile and can be used in a variety of decor styles, from traditional to modern. Low poster beds are ideal for smaller bedrooms. They don't take up too much space, allowing for more room to move around. They are available in a wide range of materials and finishes, making it easy to find the perfect bed to match any style. Finally, these beds are comfortable. They provide ample space for sleeping, making them a superb choice for those who prefer a comfortable night's sleep.
Benefits
Low poster beds provide a unique design that can help create a sense of relaxation and restfulness in a bedroom. Besides their attractive design, low poster beds offer a variety of benefits. Foremost, low poster beds are incredibly versatile. They can be used in both traditional and contemporary settings and can easily be matched with other pieces of furniture.
These beds can be used in guest rooms or children's rooms, as well as master bedrooms. Low poster beds also provide a great way to save space. Unlike traditional beds, they do not require additional bedding such as a comforter, mattress, or box spring. This allows them to take up much less space than other types of beds, which makes them ideal for those who are looking to maximize the space in their bedroom.
They are also durable. They are made from high-quality materials, such as wood or metal, which ensures that they will last for years. This makes them a splendid choice for those who want to invest in a quality piece of furniture that will stand the test of time.
Finding the perfect Low Poster bed
If you're looking for the perfect low poster bed for your bedroom, you've come to the right place. Low poster beds are incredibly versatile, offering a combination of style and function that will enhance any bedroom. Whether you're looking for something that's traditional, modern, or a unique blend of both, there is an option that will fit your style and needs. When shopping for a low poster bed, the primary consideration should be size.
Make sure that the bed you choose is the right size for your room. Measure the space where the bed will compare it to the dimensions of the bed you're looking at. You'll want to make sure the bed isn't too large or too small for the space. Another important factor to consider is the bed's design.
Low poster beds come in a variety of styles, from traditional four-poster beds to more modern designs. Think about your existing decor and furniture, and choose a bed that complements it. If you're looking for something that will stand out and make a statement, look for beds with ornate carvings or intricate details.
Consider the bed's construction. Depending on your budget, you can find low poster beds made from a variety of materials, from wood to metal to upholstered fabric. Make sure the bed is made from quality materials and is constructed well. This will ensure that your bed lasts for many years to come.
Designing around a Low Poster bed
Designing a bedroom around a low poster bed can give the room a unique and stylish look. Low poster beds are a contemporary twist on the classic four-poster bed and are becoming increasingly popular. They make a great focal point for any bedroom and can create a range of different interior design styles.
When selecting a low poster bed, consider the size of the room and the other furniture that will be in the space. A bed that is too large for the room will overpower the other pieces, while a bed that is too small may not make the desired impact. Consider the color and material of the bed too. A wooden low poster bed will look great in traditional and rustic styles, while a white or brightly colored option can create a more modern look. Once you have chosen the bed, you can build the look of the bedroom around it.
A low poster bed will work well with both light and dark colors and can be used as the starting point for a variety of different styles. Soft furnishings such as bedding, curtains and cushions can add texture and color to the room, while furniture such as side tables and storage units will help to create a complete look. If you are looking to create a bold and dramatic look, consider adding a statement wall behind the bed. This could be a feature wall with a unique wallpaper or paint color, or you could use a mural or other artwork to create a dramatic effect. For a more subtle look, a simple headboard wall with a single statement piece of artwork, such as a large mirror, will give the room a sophisticated feel.
For lighting, you can use floor lamps, table lamps and wall sconces to create a soft, ambient lighting. If you prefer a more dramatic look, you could use a single large hanging chandelier to draw the eye to the bed. Accessorizing is a great way to finish the look of the bedroom. Throw pillows, rugs and wall art can all be used to add personality and interest to the space.
Conclusion
A low poster bed is a brilliant choice for a bedroom, as it offers the perfect balance of style and comfort. The low height of the bed allows for a sense of airiness in the room, while the elegant posters provide a classic look. The four-poster design gives the bed a touch of sophistication and luxury.
Reference